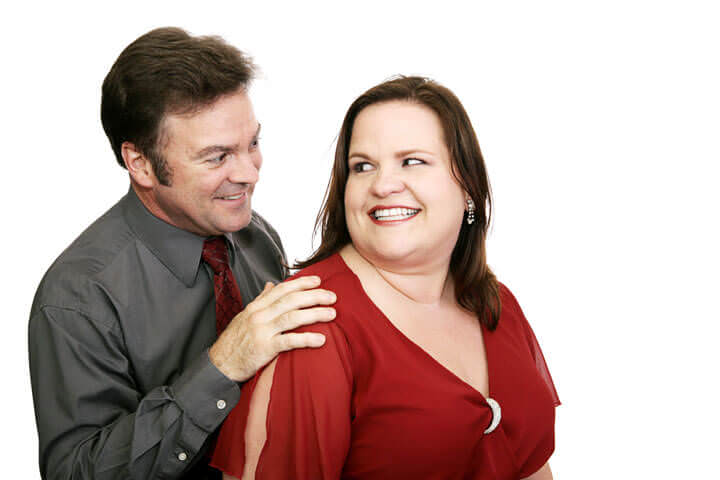 Big beautiful women sometimes have a hard time finding men who appreciate them for who they really are and not for what they look or don't look like. They are also often surrounded by shady types whose intentions are either unclear or downright wrong.
Dating is stressful and frustrating for everyone and women, especially BBWs, have to be extra careful who they are getting involved with since there are a lot of types that will either waste your time or maybe even hurt you. Here are some BBW dating tips regarding the types of men that ladies should avoid.
Men who talk down to you
Big beautiful women frequently find themselves in situations where men think it's appropriate to make comments about their size and figure, which often borders with insults, and sometimes actually turns into proper verbal abuse. Things like "You're so pretty, why don't you lose some weight?" may seem innocent but they are actually just passive-aggressiveness toward BBWs and a preview of more things that may eventually grow into insults. Don't let this happen to you. Confidence is the key to happiness, so make sure not to allow any man to talk down to you.
Men who are just into sex (unless sex is all you want too)
BBWs are often targeted by men who have a thing for full-bodied women and in many cases, it turns out they're all about sex and not much else. If you use BBW dating sites to look for companionship, partnership, and a meaningful relationship with a man, then you should definitely avoid guys who are only into sex. Some of them are pretty blunt about it, and that's a good thing too because all you have to do is avoid, block or ignore them. Guys who pretend to be all nice and cool and polite but still only want sex are trickier, as they are harder to identify. Look for red flags such as too much focus on your appearance, sexual innuendo, playful and slightly dirty comments, and zero interest in your hobbies, background, interests, job, and family.
Men who are interested in your money
These men don't target big beautiful women exclusively, but they are pretty much everywhere and don't care who you are and what you look like. You can tell that a man is looking for a "sugar mama" if he immediately asks questions regarding your financial situation and status, such as what kind of job you have, how much you earn, what kind of car you drive, do you rent or own, how you spend your vacation, etc.
Abusive men
This one is quite obvious and almost goes without saying but it's always good to remember – any man who shows any signs of abusive behavior is a definite no-no. Unfortunately, these men often have an ability to hide their abusiveness and sometimes even come off as extremely charming. There are, however, some signs you should look out for. Remember that abuse can be mental, emotional and psychological, not just physical.
Abusive men often feel the need to take care of you, to change you, to make you fit their standards or needs, they like to be in total control, which shows in the way they ignore your questions and lead the conversation in the direction they have set out for, or make very detailed plans for dates. They also can't stand being left to wait or being stood up – if this happens, an abusive man will react very harshly. Abusive men also tend to talk bad about a lot of other people, so there's another cue right there.
Fetishists
This is an issue that needs to be addressed in terms of BBW dating. A lot of big beautiful women have had experiences with men who have a particular fetish for larger women. Let's get one thing straight, though – being sexually attracted to BBWs is not wrong or unnatural. It's beautiful and exciting and rewarding – if it's mutual. However, men with a full-blown BBW fetish seem completely oblivious to any aspect of a woman other than her full figure. They are not interested in her in any other way than sexually, and whether they're into weird stuff doesn't really matter. No woman, BBW or not, wants to be reduced to a sexual fetish. Do you need a man who doesn't care whether you even have a face or a voice or a mind? Of course not.
As we already said, dating isn't easy for anyone and BBW dating can be particularly hard so the least you as a BBW can do for yourself is avoid having anything to do with these types of men.