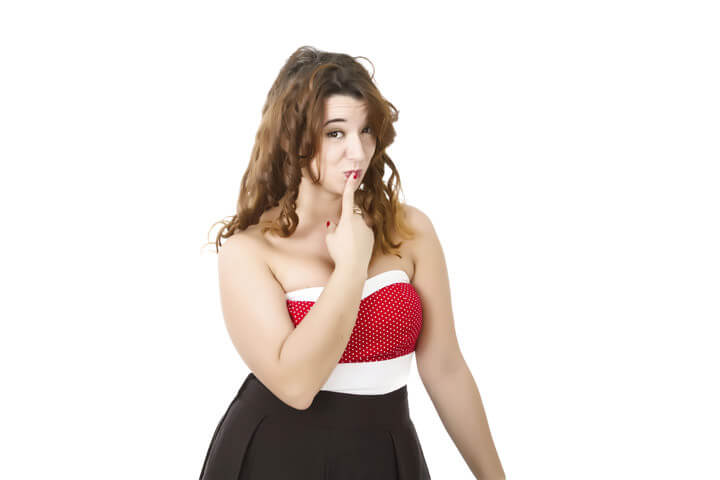 Despite the fact that two-thirds of Americans are overweight, big beautiful women and big handsome men still have a hard time landing the perfect date. Studies have clearly shown that people who are obese face discrimination in almost all areas of life, dating included.
Laura Triplett, an assistant professor of communications at California State University at Fullerton, who studies fat discrimination, said that many plus sized women are blatantly rejected once they meet their date in person. This happens even when the ladies are honest about their weight in both profiles and photos. One of the worst examples Triplett could think of was when a man flew across the country for a date and then asked her to refund his ticket because he was disappointed when he saw her.
Here's how Triplett explains this nasty behavior:
"With online dating, I think that people invest themselves with emotion and fantasy of who the other person is. The actual facts fall by the wayside. When they actually see the person, taboo takes over. Simply being near someone who possesses a socially undesirable trait is enough to trigger fear of public outcry."
Instead of using ordinary dating sites, Triplett suggests overweight ladies use a niche site that targets big beautiful women and their admirers. However, she advises women against including weight or size in profiles:
"People are going to use your physical characteristics to judge you. Why not focus on other things about yourself?"
Jennifer Abramowitz, a plus sized woman, opened up about the challenges of dating and wrote a story about her dating experience in New York. Despite many unpleasant situations in real life, Jennifer said that her size had never stopped her. When she began using BBW dating sites, Jennifer finally understood that not all men are attracted to skinny girls and that she too can find the perfect date. Here's an excerpt from her piece, posted on Carla Sosenko's official website:
''When I started on BBW dating sites, I got crazy amounts of e-mails. Before that, I didn't understand that there were people out there who preferred a round body with curves and boobs and a butt and lots of fat. Now I know that the skinny white girl is not the ideal to everyone. There are cultures and races that prefer plus-size women.''
Unfortunately, not everything is perfect. Jennifer points out that there are a lot of fetishist on BBW dating sites who are only looking for a feeding relationship:
''There's the whole dominant-submissive side of fetishizing a plus-size woman, wanting her to be in control, to be physically bigger. And I've been contacted by men on BBW sites who ask me if I'm open to a feeding relationship, which I'm not. It means they want to be with somebody who likes to eat, who they can feed and would consider gaining a lot of weight. They get off on the visual of a fat woman eating.''
And that's not all. Men can approach you on dating websites and assume that you are just interested in sex. Here's Jennifer's experience:
''I once went out with a guy I met on Nerve, then didn't hear from him again. I e-mailed and he wrote back, "I had fun making out with you—if you're ever up for some more fun, let me know." So then I knew that's all he really wanted. He wasn't like, "Hi, I'm a fetishist," he just wants to have sex with random plus-size women.''
Things like this just happen and you can never know what someone wants from you unless you ask them. And there's no guarantee that they will honestly tell you what they are actually looking for. Having in mind all the struggles of BBW online dating, we also have to stress that not all is lost; on the contrary. There are amazing people who can't wait to meet you and get to know you better.
This is how Jennifer ended her story:
''I've been seeing someone now who's given me a newfound perspective. He definitely cares about me and likes spending time with me, but if he could stare at my ass all day long, he would. He's opened my eyes to the fact that there are a lot of men out there who prefer plus-size women and that the pool isn't as small as I thought it was. And I feel very secure and confident when I'm with him.''