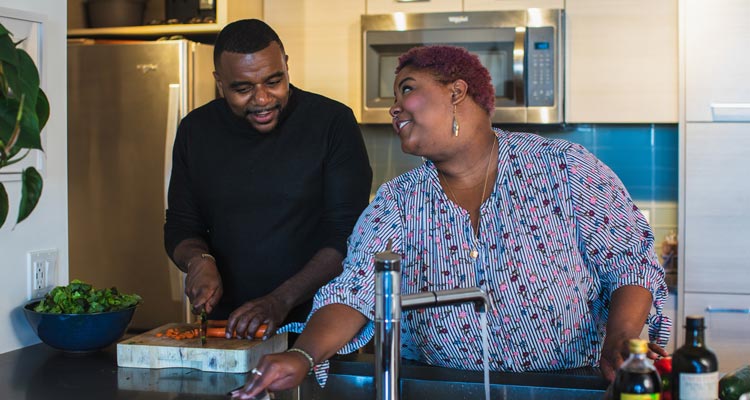 We here at BBW Dating Expert are dedicated to helping you find your perfect BBW match. However, we also need to pay close attention to what happens after we meet someone. And while there are no easy answers here, one piece of advice goes a long way. And that's just to listen to your partner and to what he or she is saying. When we say listen, we really mean listen. This means you should not be thinking about something else and nodding while you're talking to your partner.
It means carefully listening to what's being said. We know it sounds easy but it's actually not. And this is why many people just blank through this very important part of the relationship. In the world of BBW dating, understanding is key to a successful relationship. And you cannot understand someone if you're not listening to them. Body positivity is a recent trend and although it's showing incredibly positive signs there are still a lot of judgmental people.
Let us be clear here: This has nothing to do with your relationship. However, it impacts it nonetheless as it chips away at the confidence of your partner. This is why it's so important to be a good listener if you're in a BBW relationship.
Not all conversations are that important
Sometimes you just have to take a hit and listen to a person ramble on for half an hour. If you can do that, you will be greatly rewarded. We are social beings and we need support and understanding. If your partner is willing to support you in your time of need, this means he really loves you. With this being said, you need to be able to differentiate these venting conversations and real conversations. Usually, this is an easy thing to do. You just pay attention to the intensity of the emotions.
If they are high and your partner is very animated, it usually means that this is one of those conversations. If they are calmer, and concise and want to talk specifically about something, this is a real conversation. Finally, these individual venting conversations may not be important on their own but they have a cumulative effect. This means you can pick up on things over the course of a month or a year. You can find ways to help your partner in the quickest and best possible way.
Ask Questions, Identify Triggers
Asking questions shows that you're actually listening to that other person. And not just that but it demonstrates that you're interested in what they have to say and you want to know more about it. And the same goes for the other person. If you're not feeling supported when you're trying to convey a point, you need to communicate that. You need to say it loud and clear but also in a caring way. And you need to be clear that this is for the benefit of your relationship.
Another very important thing you should try to do is to find triggers. This means identifying what exactly made your partner feel sad, mad, or any other feeling. That way, you will not only learn something new about them but you will also be able to help them work through their issues and emotions. You will help them become a better person and set them on the path you're already on as you're an active and good listener.
For example, if you're on a date and she tells you that people were looking at her funny because of her weight, you need to be there for her. To understand her, to tell her that those people simply don't know any better and that they need to learn to be better persons. Do not be judgmental and do not try to ask leading questions that are working towards you and your conclusions. This is not about you, it's about your partner, your relationship, and only then you. It's like that now but tomorrow it will be about you, so wait your chance, be patient, and love as you've never loved before. That never fails.